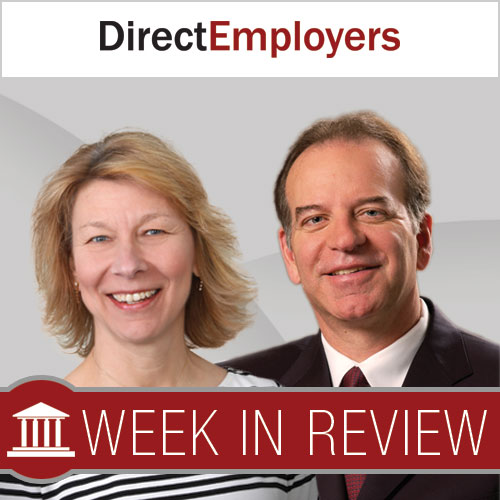 The "OFCCP Week in Review" is a simple, fast and direct summary of relevant happenings in the OFCCP regulatory environment published every Monday. Here are this week's developments:
Tuesday, February 23, 2016: Notice of Proposed Rulemaking. Affirmative Action for People with Disabilities in the Federal Government. The EEOC has issued a press release outlining their notice of proposed rulemaking (NPRM) to amend the regulations at 29 C.F.R. § 1614.203 implementing Section 501 of the Rehabilitation Act of 1973 (Section 501). This proposed rule provides guidance to federal agencies to satisfy their Section 501 obligation to engage in affirmative action in employment for individuals with disabilities.
Similar to federal contractors' requirements related to Section 503 of the Rehabilitation Act of 1973, this NPRM is specifically for federal agencies and proposes the adoption of a 12% representation rate for individuals with disabilities at all levels of employment. Additionally, a 2% targeted or severe representation rate has been adopted at both the higher and the lower levels of employment. Targeted or severe disabilities include total deafness in both ears, blindness, missing extremities, partial or complete paralysis, epilepsy, intellectual or psychiatric disabilities and dwarfism.
Additional information can be found on this question-and-answer document and in this background information document published by the EEOC. Comments must be submitted by April 25, 2016.
Wednesday, February 24, 2016: Notice of Proposed Rulemaking: Executive Order 13706, Establishing Paid Sick Leave for Federal Contractors. The Wage and Hour Division of the Department of Labor has issued a proposed rule to implement Executive Order 13706 signed by President Obama on September 7, 2015. The NPRM would provide 7 days of paid sick leave annually to covered employees, or 1 hour for every 30 hours worked. Employees would not earn less than 56 hours each year and can use existing paid sick leave to satisfy this requirement. Paid sick leave can be carried over from year to year but contractors can limit the accrual to 56 hours. Because this is an accrued benefit and not a vested benefit, there is no payout of unused leave upon termination of employment. However, employees who leave and are reemployed within 12 months shall have their leave reinstated at the level they had upon termination. Finally, medical certifications are not required if an employee is on leave less than 3 or more consecutive days.
This NPRM applies to contracts that are signed or replaced in any of the following four categories:
procurement contracts for construction covered by the Davis-Bacon Act (DBA);
service contracts covered by the McNamara-O'Hara Service Contract Act (SCA);
concessions contracts, including any concessions contracts excluded from the SCA by the Department's regulations at 29 CFR 4.133(b); and
contracts in connection with Federal property or lands and related to offering services for Federal employees, their dependents, or the general public.
Additional information about the NPRM can be found here. Written comments on the NPRM must be submitted by March 28, 2016. Regulations are expected to be issued by September 30, 2016.
Thursday, February 25, 2016: US Labor Department sues B&H Foto & Electronics Corp. for hiring, pay, promotion discrimination; harassment. The OFCCP filed a lawsuit alleging that B&H Foto & Electronics Corp. systematically discriminated against Hispanic employees and female, black and Asian job seekers at its Brooklyn Navy Yard warehouse. Specifically, the OFCCP found, during its compliance review, from January 2011 to January 2013:
Hispanic men were exclusively hired into B&H's entry-level laborer job group, with the complete exclusion of female employees at the warehouse and the near exclusion of black and Asian employees at the facility.
B&H promoted and compensated its Hispanic workers at a significantly lower rate than comparable white workers, leading to lower pay, fewer opportunities to advance and a near-total exclusion of Hispanic workers from higher level clerical, managerial and supervisory positions. Hispanic employees were also subjected to racist remarks, degrading comments and harassment at the worksite.
The OFCCP also found that B&H's Brooklyn Navy Yard's Warehouse:
Required personnel and employment records were not kept and maintained.
Hispanic warehouse workers were given separate, unsanitary and often inoperable restrooms.
B&H failed to provide designated restroom or changing facilities for females.
Important to note with this lawsuit, if B&H fails to provide the relief as ordered, OFCCP requests that all B&H government contracts be canceled and that it be debarred from entering into future federal contracts. B&H currently holds supply contracts valued in excess of $46 million.
The full complaint can be found here.
THIS COLUMN IS MEANT TO ASSIST IN A GENERAL UNDERSTANDING OF THE CURRENT LAW AND PRACTICE RELATING TO OFCCP. IT IS NOT TO BE REGARDED AS LEGAL ADVICE. COMPANIES OR INDIVIDUALS WITH PARTICULAR QUESTIONS SHOULD SEEK ADVICE OF COUNSEL.
Reminder: If you have specific OFCCP compliance questions and/or concerns or wish to offer suggestions about future topics for the OFCCP Week In Review, please contact your membership representative at 866-268-6206 (for DirectEmployers Association Members), or email me at candee@directemployers.org with your ideas.
Receive OFCCP compliance alerts and updates right on your phone! Text the word compliance from your mobile phone to 55678 (all applicable charges and fees set by your cell phone carrier will apply).
Don't miss Candee and John present at the DirectEmployers 2016 Annual Meeting & Conference (DEAM16), May 18-20. Agenda and registration are available on the
DEAM16 website
.
Latest posts by Candee Chambers
(see all)