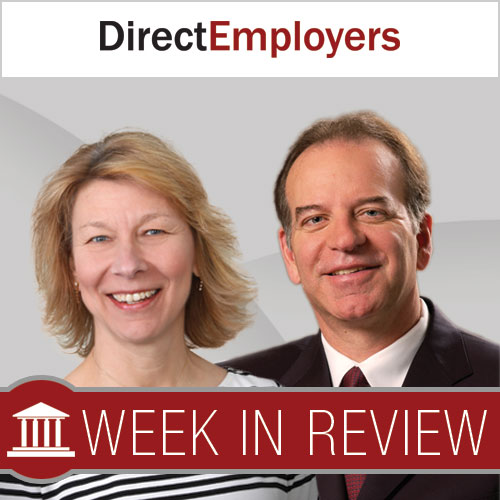 The "OFCCP Week in Review" is a simple, fast and direct summary of relevant happenings in the OFCCP regulatory environment published every Monday. Here are this week's developments:
Monday, March 21, 2016: OMB & USDOL "Memorandum For The Heads of Executive Departments and Agencies" re "Implementation of the President's Executive Order on Fair Pay and Safe Workplaces. This important March 6, 2016 memorandum which only last week came to light puts substantially more "meat on the bones" of one of the most controversial pieces of President Obama's highly controversial so-called "Blacklisting" Executive Order ("Order"): the role of the newly created "Labor Compliance Advisors" ("LCA"s). Ah, more Washington D.C. acronyms for those who were hungering for some fresh meat! "LCA"s: just rolls off your tongue, doesn't it! Savor it! Two new significant pieces of information now emerge from this Memorandum which Beth Cobert (Deputy Director for OMB) and Christopher Lu (Deputy Secretary at USDOL) have jointly authored: (1) the federal government will "implement the new guidance and rules in stages to ensure all stakeholders [meaning prospective bidders on federal contracts] have adequate time to acclimate themselves to the requirements of the Order [without specifying what aspects of the Order's requirements will be staged if the proposed Blacklisting "Guidance" (from USDOL) and proposed regulations (from the FAR Council) indeed go to final form in the remaining 9 regulatory months left to President Obama], and (2) the LCAs will offer interested federal contractor bidders concerned about their labor law violations or those of their subcontractors "the opportunity to receive early guidance from DOL and other enforcement agencies on whether those violations are potentially problematic, as well as the opportunity to remedy any problems" (p. 3 of Memorandum).
THIS COLUMN IS MEANT TO ASSIST IN A GENERAL UNDERSTANDING OF THE CURRENT LAW AND PRACTICE RELATING TO OFCCP. IT IS NOT TO BE REGARDED AS LEGAL ADVICE. COMPANIES OR INDIVIDUALS WITH PARTICULAR QUESTIONS SHOULD SEEK ADVICE OF COUNSEL.
Reminder: If you have specific OFCCP compliance questions and/or concerns or wish to offer suggestions about future topics for the OFCCP Week In Review, please contact your membership representative at 866-268-6206 (for DirectEmployers Association Members), or email Candee at candee@directemployers.org with your ideas.
Receive OFCCP compliance alerts and updates right on your phone! Text the word compliance from your mobile phone to 55678 (all applicable charges and fees set by your cell phone carrier will apply).
Don't miss Candee and John present at the DirectEmployers 2016 Annual Meeting & Conference (DEAM16), May 18-20. Agenda and registration are available on the
DEAM16 website
.
John C. Fox, Esq. is President and Partner at Fox, Wang & Morgan P.C. where he represents companies and tries cases in state and federal courts throughout the United States. Mr. Fox has extensive trial experience, having spent more than 300 days in trial. Full Bio »