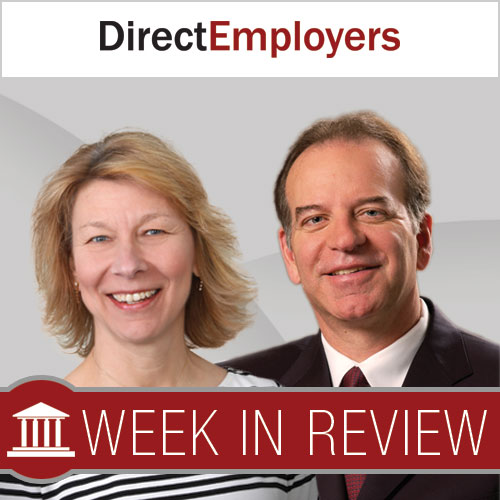 The "OFCCP Week in Review" is a simple, fast and direct summary of relevant happenings in the OFCCP regulatory environment published every Monday. Here are this week's developments:
Friday, April 8, 2016: The US Department Of Labor Employee Benefits Security Administration published A Final Rule Titled "Definition of the Term ''Fiduciary;'' Conflict of Interest Rule—Retirement Investment Advice; Best Interest Contract Exemption;" etc. This is a highly controversial Rule the financial services industry has fought tooth and nail for the last year in an all-out battle on Capitol Hill. The importance of this Final Rule for federal contractors is that it is a harbinger of things to come as to other still pending Rules at OFCCP and more generally throughout the US Department of Labor. Publication of the Fiduciary Conflict of Interest Rule signals, as many pundits have forecast, that the Labor Department is going to finish out President Obama's term by "going down swinging." If the Department is going to push these Rules through to Final, despite the enormous resistance joined by many Democrats, it is a good bet that the Department will likely push through to Final, between now and the end of the Obama Administration, other controversial Rules like the Fair Pay and Safe Workplaces Rule and the revised Wage-Hour exemptions Rule. "Damn the torpedoes! Full speed ahead."  Buckle your seatbelts; the next 9 months are going to be a bumpy ride!
THIS COLUMN IS MEANT TO ASSIST IN A GENERAL UNDERSTANDING OF THE CURRENT LAW AND PRACTICE RELATING TO OFCCP. IT IS NOT TO BE REGARDED AS LEGAL ADVICE. COMPANIES OR INDIVIDUALS WITH PARTICULAR QUESTIONS SHOULD SEEK ADVICE OF COUNSEL.
Reminder: If you have specific OFCCP compliance questions and/or concerns or wish to offer suggestions about future topics for the OFCCP Week In Review, please contact your membership representative at 866-268-6206 (for DirectEmployers Association Members), or email Candee at candee@directemployers.org with your ideas.
Receive OFCCP compliance alerts and updates right on your phone! Text the word compliance from your mobile phone to 55678 (all applicable charges and fees set by your cell phone carrier will apply).
Don't miss Candee and John present at the DirectEmployers 2016 Annual Meeting & Conference (DEAM16), May 18-20. Agenda and registration are available on the
DEAM16 website
.
John C. Fox, Esq. is President and Partner at Fox, Wang & Morgan P.C. where he represents companies and tries cases in state and federal courts throughout the United States. Mr. Fox has extensive trial experience, having spent more than 300 days in trial. Full Bio »