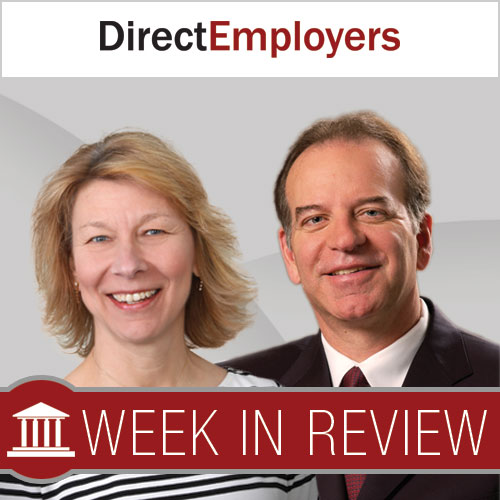 The "OFCCP Week in Review" is a simple, fast and direct summary of relevant happenings in the OFCCP regulatory environment published every Monday. Here are this week's developments:
Friday, April 29, 2016: OPM Issues Proposed 'Ban the Box' Rule. In light of the potential legislation that would mandate 'Ban the Box' practices in the private employment sector, the Department of Labor's Office of Personnel Management has issued a proposed rule that would delay criminal history inquiries in the federal hiring process. Ban the Box prevents employers from inquiring about a job-seeker's criminal history until a conditional employment offer is made. The proposal is intended to extend this same practice to federal agencies as well.
Certain agencies would be able to request exemptions based on "legitimate, specifically job-related reasons" for inquiring about a candidate's criminal history earlier in the hiring process. Exemptions could apply to positions in law enforcement and federal intelligence. Currently, many agencies begin assessing a job-seeker's "suitability" for a position at any point in the hiring process, including criminal history, drug use, previous misconduct, etc. This proposal would amend existing regulations and prohibit those types of reviews until a conditional offer of employment is made.
Thursday, April 28, 2016: House Panel Votes to Exempt Defense From Obama Contractor Order. Rep. John Kline (R-Minn.) introduced an amendment, adopted by the House Armed Services Committee, excusing the Department of Defense from the Executive Order known as Fair Pay and Safe Workplaces. Introduced by President Barack Obama in 2014, the order would require businesses seeking government contracts worth more than $500,000 to disclose violations in any of 14 federal labor and employment laws and state-law counterparts for the previous three years. This amendment would effectively block the applicability of this EO from the DOD and the National Nuclear Security Administration.
The Federal Acquisition Regulatory Council and the Labor Department are expected to finalize the regulations to implement the Executive Order later this year.
While there are, and will continue to be, several legislative differences to be ironed out before this is finalized, the Associated Builders and Contractors, the U.S. Chamber of Commerce, the HR Policy Association and others are leading the business coalition working to defeat Fair Pay and Safe Workplaces, which they refer to as the "blacklisting" rule. Lobbyists who favor it, however, believe they have enough support to see it through to final.
With the upcoming elections, time will certainly tell how all of the pending regulations fare.
THIS COLUMN IS MEANT TO ASSIST IN A GENERAL UNDERSTANDING OF THE CURRENT LAW AND PRACTICE RELATING TO OFCCP. IT IS NOT TO BE REGARDED AS LEGAL ADVICE. COMPANIES OR INDIVIDUALS WITH PARTICULAR QUESTIONS SHOULD SEEK ADVICE OF COUNSEL.
Reminder: If you have specific OFCCP compliance questions and/or concerns or wish to offer suggestions about future topics for the OFCCP Week In Review, please contact your membership representative at 866-268-6206 (for DirectEmployers Association Members), or email me at candee@directemployers.org with your ideas.
Receive OFCCP compliance alerts and updates right on your phone! Text the word compliance from your mobile phone to 55678 (all applicable charges and fees set by your cell phone carrier will apply).
Don't miss Candee and John present at the DirectEmployers 2016 Annual Meeting & Conference (DEAM16), May 18-20. Agenda and registration are available on the
DEAM16 website
.
Latest posts by Candee Chambers (see all)