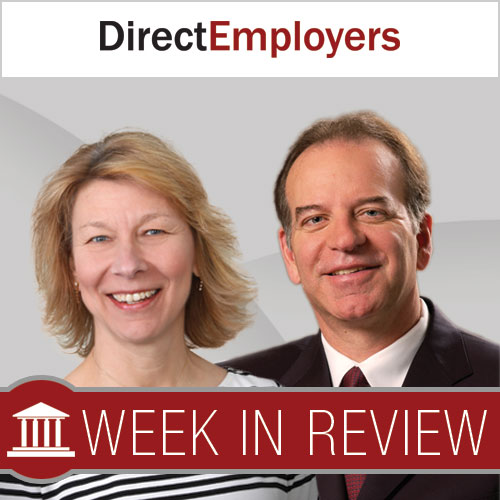 The "OFCCP Week in Review" is a simple, fast and direct summary of relevant happenings in the OFCCP regulatory environment published every Monday. Here are this week's developments:
Monday, May 9, 2016: Competing Federal Court Complaints in North Carolina Transgender Bathroom Fight Raise Interesting and Complex Legal Issues in Clash of Civil Rights, Public Safety Concerns and Privacy Rights. In what was a very interesting week, and as unexpected as it might seem, NC Governor Patrick McCrory, in his response to the US DOJ's 'Cease and Desist' letter related to H.B. 2, filed a complaint against the United States for their "…radical reinterpretation of Title VII of the Civil Rights Act of 1964…" In response, the US DOJ filed a competing complaint "…challenging a provision of North Carolina law requiring public agencies to deny transgender persons access to multiple-occupancy bathrooms…consistent with their gender identity." John Fox's latest blog, released today, examines this whole issue in great detail.
This is no doubt going to be an ongoing issue during much of the summer. Stay tuned!
Monday, May 9, 2016: OFCCP Publishes Revised Functional AAP Directive. Federal contractors who wish to produce affirmative action plans based on business function or unit that may also encompass multiple establishments must now follow a new Functional Affirmative Action Program (FAAP) directive released by the OFCCP. The OMB approved directive includes procedures contractors must use when requesting approval to develop their AAP's by business or functional unit rather than their standard establishment AAP based on geographic location. The Office of Management and Budget (OMB) approved OFCCP using the procedures included in the revised directive through April 30, 2019.
Wednesday, May 11, 2016: OFCCP Announces a Webinar on the Revised FAAP Directive. In light of the release of the new FAAP directive outlining how contractors must apply for and maintain their FAAP's the OFCCP has announced a webinar for contractors to learn more about functional affirmative action programs.
This informational webinar is scheduled for May 19, 2016. Links to register for the webinar are not available now but stay tuned and check the OFCCP website for further information. Connie N. Bertram, a partner in the Labor & Employment department at Proskauer, wrote a detailed blog on the changes in the revised FAAP directive that may be helpful as well.
Wednesday, May 11, 2016: Federal food service contractor settles charges of gender-based hiring discrimination for entry-level Michigan, Kentucky, Wisconsin warehouse jobs. Gordon Food Service, Inc. of Wyoming, MI, has agreed, while not admitting liability, to pay $1.85 million to female applicants, to hire 37 female applicants and to stop using an unvalidated strength test used in their hiring process. Three conciliation agreements were included in this resolution. This is the second time GFS has settled charges of sex discrimination in their hiring practices at some of these same facilities. The company paid $450,000 in back pay to affected women in 2007.
Friday May 13, 2016: The U.S. Department of Justice and U.S. Department of Education issued (to state schools receiving federal financial assistance subject to Title IX) a joint "Dear Colleague Letter on Transgender Students." Described as a "guidance letter," it warned that the federal government could terminate federal financial assistance to state schools not allowing transgender students to access bathrooms consistent with their gender identity. More information related to this new "guidance" from the federal government can be found in John Fox's blog.
THIS COLUMN IS MEANT TO ASSIST IN A GENERAL UNDERSTANDING OF THE CURRENT LAW AND PRACTICE RELATING TO OFCCP. IT IS NOT TO BE REGARDED AS LEGAL ADVICE. COMPANIES OR INDIVIDUALS WITH PARTICULAR QUESTIONS SHOULD SEEK ADVICE OF COUNSEL.
Reminder: If you have specific OFCCP compliance questions and/or concerns or wish to offer suggestions about future topics for the OFCCP Week In Review, please contact your membership representative at 866-268-6206 (for DirectEmployers Association Members), or email me at candee@directemployers.org with your ideas.
Receive OFCCP compliance alerts and updates right on your phone! Text the word compliance from your mobile phone to 55678 (all applicable charges and fees set by your cell phone carrier will apply).
Don't miss Candee and John present at the DirectEmployers 2016 Annual Meeting & Conference (DEAM16), May 18-20. Agenda and registration are available on the
DEAM16 website
.
Latest posts by Candee Chambers (see all)