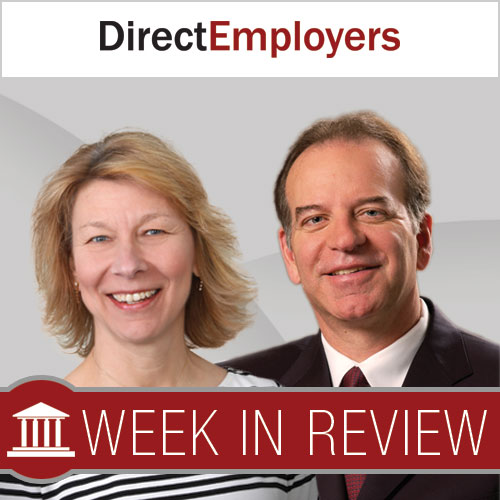 The OFCCP Week in Review (WIR) is a simple, fast and direct summary of relevant happenings in the OFCCP regulatory environment, authored by experts John C. Fox and Candee Chambers.

Friday, December 2, 2016: Department of Labor's Civil Rights Center Publishes a Final Rule to Update Existing Nondiscrimination and Equal Opportunity Regulations of the Workforce Innovation and Opportunity Act (WIOA)
The nation's workforce development system is tasked with serving all people equally and last week, the Workforce Innovation and Opportunity Act (WIOA) was released with their mandated regulations to implement Section 188 of the law, which requires equal opportunity and nondiscrimination in the workforce development system. As stated by U.S. Secretary of Labor Thomas E. Perez, "This new rule provides the entire workforce system with important clarity to protect workers from discrimination based on disability, pregnancy, national origin and limited English proficiency, gender identity and other factors." Further protections prohibiting discrimination related to citizenship status or because an individual is actively receiving financial assistance under Title I of WIOA are also in place
The Employment and Training Administration, one of OFCCP's sister agencies within the DOL, has developed this final Rule with necessary changes since the last revision in 1999. Procedures and processes for the enforcement of the nondiscrimination and equal opportunity provisions reflect changes in the way participants now seek assistance via computer and internet-based systems.
Other significant changes included in the Rule are as follows:
Greater focus/explanation on the obligations to prevent discrimination based on national origin and the provision of services to individuals with limited English proficiency.
Changes to reflect the Americans with Disabilities Act Amendments Act of 2008.
Clarification that sex discrimination includes discrimination on the basis of pregnancy, childbirth and related medical conditions, transgender status, gender identity and sex-based stereotyping.
The rule goes into effect on Jan. 3, 2017. This fact sheet and Q&A document provide additional information for employers who have built or are building relationships with local Career One-Stops and are seeking to hire participants of their state's workforce development systems.
---
THIS COLUMN IS MEANT TO ASSIST IN A GENERAL UNDERSTANDING OF THE CURRENT LAW AND PRACTICE RELATING TO OFCCP. IT IS NOT TO BE REGARDED AS LEGAL ADVICE. COMPANIES OR INDIVIDUALS WITH PARTICULAR QUESTIONS SHOULD SEEK ADVICE OF COUNSEL.
Reminder: If you have specific OFCCP compliance questions and/or concerns or wish to offer suggestions about future topics for the OFCCP Week In Review, please contact your membership representative at (866) 268-6206 (for DirectEmployers Association Members), or email Candee at candee@directemployers.org with your ideas.
Receive OFCCP compliance alerts and updates right on your phone! Text the word compliance from your mobile phone to 55678 (all applicable charges and fees set by your cell phone carrier will apply).
Latest posts by Candee Chambers (see all)