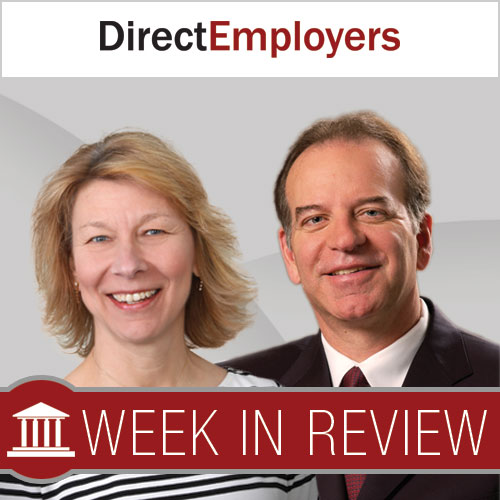 The OFCCP Week in Review (WIR) is a simple, fast and direct summary of relevant happenings in the OFCCP regulatory environment, authored by experts John C. Fox and Candee Chambers. In today's edition, we will cover:
Puzder confirmation hearing set for February 2, 2017
Highlights from the EEOC FY2016 Enforcement & Litigation Report
EEOC releases Eight Q&A's on "Depression, PTSD & Other Mental Health Issues in the Workplace: Your Legal Rights"
Jenny Yang punches out as EEOC Chair and provides a "progress report" over past eight years
Donald J. Trump takes oath to become 45th President of the United States
Senate confirmation votes for Trump senior nominees begin
January 17, 2017: Puzder Confirmation Hearing Set for Thursday, February 2, 2017
The Senate Health, Education, Labor and Pensions Committee will hold the nomination hearing for Andrew Puzder to be the next Secretary of the U.S. Department of Labor.
January 18, 2017: EEOC Released its FY2016 Enforcement and Litigation Report–Highlights Include:
The number of Charges filed with state and federal human rights agencies/EEOC was 91,503, but the agency resolved a whopping 97,443 Charges and thus lowered its FY2015 backlog of slightly over 76,000 Charges by 3.8% to 73,508, but decreased its back pay collections by almost 20% from FY2015 by collecting only a bit more than $482M in back pay under all of the statutes the EEOC enforces.
Florida (with 8.3% of all Charges), California (6.4%), Georgia (5.8%) and Illinois (5.5%) led the country (in that order) with the highest number of Charges filed. Alaska, Idaho, Maine, Montana, New Hampshire, North Dakota, South Dakota, Vermont, and Wyoming all weighed-in at the other end of the Charge-filing spectrum with only double digit Charge filing numbers (only 1/10 of one percent or less in each state).
Equal Pay Act Charges continued to be few in number despite the political hue and cry about perceived compensation discrimination: Charging Parties filed only 1,075 EPA Charges nationwide. The EEOC/state Human Rights agencies "Administratively Closed" (usually for want of jurisdiction) 202 (16.8%) of those Charges and found "No Reasonable Cause" to believe a pay violation existed (i.e. employer's position upheld that no unlawful discrimination had occurred) in an additional 772 (64.3%) of the Charges, and found "Reasonable Cause" to believe a violation had occurred (i.e. employee's claim upheld) in only 57 cases (4.7%) resulting in back pay collections totaling $8.1M, nationwide.
The big surprise was the EEOC's publication for the first time of LGBT Sex-based discrimination Charges now that the EEOC has taken the legal position that sexual orientation and gender-identity discrimination are both independently unlawful pursuant to Title VII. The EEOC reported 1,768 LGBT Charges nationwide (many more Charges than the Equal Pay Act generates annually, for example) of which there were 282 "Administrative" Closures (17.1%), 1,114 (67.6%) "No Reasonable Cause" Determinations and 61 (3.7%) "Reasonable Cause" Determinations.
While intended for rejected applicants and employees, this new informal guidance is a quick read and a useful and faithful summary of the law under the Americans with Disabilities Act prohibiting discrimination against those individuals impaired by a variety of mental health disabilities.
January 19, 2017: Jenny Yang, Punches Out as the EEOC's Chair with a "Progress Report" = Looking Back at the 8 Years of the Obama EEOC: Term Not Yet Expired So She is Hanging Around as a Commissioner
While Ms. Yang's term on The Commission is not set to expire until July 1, 2017, The President has the right to identify the Chair of the EEOC from among the EEOC's Commissioners. Ms. Yang is a Democrat.  It is widely expected that President Trump will appoint existing EEOC Commissioner Victoria Lipnic (Republican) to be the next Chair of the EEOC even as The President searches for a Republican to fill an empty Republican Commission Chair. The President may appoint up to three Members of his own political party affiliation if he cares to do so when Commission seats become available. The Commission currently has three Democrat Commissioners and one Republican Commissioner and 1 vacant Republican Commission seat. When Ms. Yang's term expires July 1, 2017, President Trump can then appoint a third Republican and presumably may then control the political agenda of the Commission. This has important implications for the EEO-1 Report Summary Pay Data Revision which Republican lawmakers have targeted for repeal. Employers will have to be patient since it will thus take until probably early Fall 2017 for The EEOC to withdraw its EEO-1 compensation data reporting requirement (as is widely expected). No worries, though: the 2017 EEO-1 Report with the compensation data report (if it does somehow survive) is not due to be filed until March 2018. Lots of time.
January 20, 2017: Donald J. Trump Took the Oath of Office to Become the 45th President of the United States
January 20, 2017: Senate Confirmation Votes for Trump Senior Nominees Began
Our January 9, 2017 WIR reported the then upcoming dates of Confirmation Hearings for Trump nominees to high government posts affecting Employment and Civil Rights issues, including Sen. Jeff Sessions for Attorney General of the United States; General John F. Kelly USMC (Ret) to be Secretary of the Department of Homeland Security; Betsy DeVos to be Secretary of Education and Elaine Chao to be Secretary of Transportation. All Trump Administration nominees subject to the Senate's right of "Advice and Consent" not only must first undergo Confirmation Hearings before the various Committees of the Senate responsible for the subject matter of the nominee's federal agency to be, but hereafter they must stand for a "Confirmation Vote" of the Senate which must vote its approval of the Nominee by majority vote. There is always political drama as to the order of the nominees the White House presents since each Senate vote creates an opportunity for Senators to make floor speeches about the Nominees, public policy issues the Nominees will be responsible to handle, the President, and the economy.  Senators often see Confirmation votes also as yet another opportunity to influence public opinion on matters of public policy, and to show themselves at the heart of the debate…often makes for biting, and sometimes, even scathing TV soundbites.
General John F. Kelly USMC (Ret): Confirmed. General Kelly is now Secretary Kelly, Secretary of the Department of Homeland Security
Elaine Chao: Pending, to be Secretary of Transportation. Could come today, Monday.
Sen. Jeff Sessions: Controversial vote to come this week to become Attorney General
Betsy DeVos: Controversial vote likely to come this week to become Secretary of Education
---
THIS COLUMN IS MEANT TO ASSIST IN A GENERAL UNDERSTANDING OF THE CURRENT LAW AND PRACTICE RELATING TO OFCCP. IT IS NOT TO BE REGARDED AS LEGAL ADVICE. COMPANIES OR INDIVIDUALS WITH PARTICULAR QUESTIONS SHOULD SEEK ADVICE OF COUNSEL.
Reminder: If you have specific OFCCP compliance questions and/or concerns or wish to offer suggestions about future topics for the OFCCP Week In Review, please contact your membership representative at (866) 268-6206 (for DirectEmployers Association Members), or email Candee at candee@directemployers.org with your ideas.
Receive OFCCP compliance alerts and updates right on your phone! Text the word compliance from your mobile phone to 55678 (all applicable charges and fees set by your cell phone carrier will apply).
Save
Save
Save
Save
Save
Save
Save
Save