Let Your Voice Be Heard | Now Collecting Suggestions for the Trump Administration Regarding Future EEOC & OFCCP Initiatives

Deadline to Submit Comments: Tuesday, February 14, 2017 | Submit your comments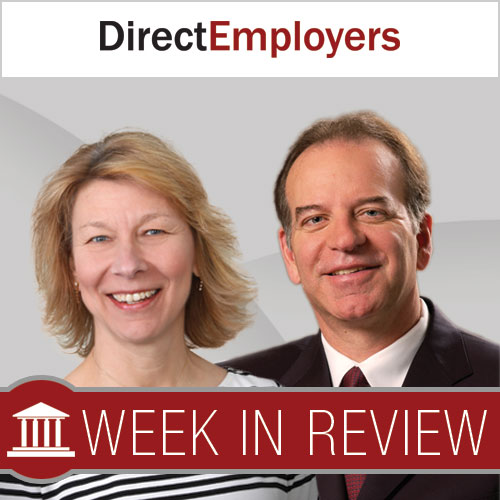 The OFCCP Week in Review (WIR) is a simple, fast and direct summary of relevant happenings in the OFCCP regulatory environment, authored by experts John C. Fox and Candee Chambers. In today's edition, we will cover:
Trump froze new regulations pending review
AAAED published notice of an overlooked Heritage Foundation report from July 2016 to eliminate OFCCP
Money Magazine reported that the USDOJ Division of Civil Rights may be on the chopping block
Trump named EEOC Commissioner Victoria A. Lipnic as acting chair of the Commission
Puzder confirmation hearing now pushed to Tuesday, February 7, 2017
Trump Executive Order calls for two fewer federal rules for each new rule, and a zero sum game
Monday, January 20, 2017: Trump Froze New Regulations Pending Review
In a Memorandum for the Heads of Executive Departments and Agencies, President Trump's Chief of Staff, Reince Priebus on the President's first day in office ordered all federal Executive Branch agencies as follows (in an effort to stop all pending, proposed or Rules heading to the Office of the Federal Register (OFR) other than emergency Rules affecting national security, public safety and/or health so the new Trump political team could get into their offices and make informed decisions about the pending Rules):
"…send no regulation to the Office of the Federal Register (the "OFR") until a department or agency head appointed or designated by the President * * * reviews and approves the regulation…" [DE Members: this does not affect OFCCP]
"… With respect to regulations that have been sent to the OFR but not published in the Federal Register, immediately withdraw them from the OFR for review and approval…". [DE Members: this does not affect OFCCP and misses the EEOC's EEO-1 Revision]
" … With respect to regulations that have been published in the OFR but have not taken effect, as permitted by applicable law, temporarily postpone their effective date for 60 days from the date of this memorandum, subject to the exceptions described in paragraph 1, for the purpose of reviewing questions of fact, law, and policy they raise.  Where appropriate and as permitted by applicable law, you should consider proposing for notice and comment a rule to delay the effective date for regulations beyond that 60-day period.  In cases where the effective date has been delayed in order to review questions of fact, law, or policy, you should consider potentially proposing further notice-and-comment rulemaking…" [DE Members: This affects the Fair Pay and Safe Workplaces Rules]
Monday, January 20, 2017: AAAED Published Notice of an Overlooked Heritage Foundation Report from July 2016 Proposing to Eliminate OFCCP
The American Association for Access, Equity and Diversity (formerly AAAA) published its report titled: "Heritage Foundation Urges the Elimination of OFCCP and Other Civil Rights Programs"  on President Trump's first day in office. AAAED, whose Executive Director is Shirley J. Wilcher (formerly the Director of OFCCP during both terms of the Clinton Administration) has published two links to two Heritage Foundation Reports setting forth suggested "blueprints for reform" of the federal government regulatory agencies in the Administration following the Obama Administration. The Heritage Foundation is a prominent and very conservative "think tank" founded in Washington D.C. in 1973. The Heritage Foundation's views are given serious review in every Republican Administration. It is little remembered now, but John Fox unexpectedly ended up spending about one-third of his time while helping to run OFCCP in the early 1980s fending off a similar contractor-community inspired initiative to streamline and merge the OFCCP into the EEOC. The then Secretary of Labor opposed that plan, and after four years of struggle, the merger plan failed. However, this is a popular idea which never seems to die, so the new Secretary of Labor will undoubtedly dust off the various merger or elimination ideas (remember the "Mend it; Don't End it" campaign President Clinton started by coining the phrase and which Shirley championed?) and then make a policy determination about how to proceed.
Tuesday, January 24, 2017: Money Magazine Reported that the USDOJ Division of Civil Rights May be on the Budget Chopping Block
Quoting and confirming The Hill newspaper's report of the week before that budget documents leaking out on Capitol Hill identify 17 federal agencies some Members of Congress and reportedly the Trump White House favor eliminating entirely to reduce the federal deficit including the Division of Civil Rights ("DCR") at the U.S. Department of Justice. OFCCP is not on this list. The Congress and the Obama White House last year budgeted DCR at $156M and is considered one of the three leading civil rights agencies in the country (along with the EEOC and the OFCCP). The DCR employs only about 750 employees, although most of them are lawyers. While Government contractors subject to OFCCP's jurisdiction rarely see or tangle with DCR, OFCCP has recently referred one case (Entergy) to DCR for enforcement and for defense of a lawsuit Entergy filed against OFCCP seeking a Declaratory Judgment whether OFCCP had properly selected it for audit. Otherwise, DCR's primary focus is non-discrimination in the states and federal government as to employment, education, hate crimes, and famously recently investigations into complaints alleging that local police departments were using excessive force as to people of color allegedly because of their race.  There is scant chance Republicans will seek to abolish DCR, although all federal budgets of civil agencies of the Executive Branch will face challenge for FY2017 (budget overdue) as President Trump now begins to try to wrestle to a lower number the ever-expanding budget of the federal Executive Branch of government.
Wednesday, January 25, 2013: Trump Named EEOC Commissioner Victoria A. Lipnic Acting Chair of the Commission
While we would like to say we were prescient in our prediction in last week's WIR that President Trump would name Commissioner Lipnic to be the Chair of the EEOC, it was inevitable once one understands how The Commission works. While the EEOC's Press Release reporting Ms. Lipnic's nomination mentions that President Obama twice nominated Ms. Lipnic to sit as a Commissioner of the EEOC, she is a Republican and served as a political appointee at USDOL in the George W. Bush Administration.(the son #43). The Obama appointments came because The President has authority only to appoint three of the five EEOC Commissioners from his own political party, making The Commission one of the more challenging federal Executive Branch agencies for each White House to manage and control. Commissioner Lipnic is only the "Acting" Chair until the Senate HELP Committee can hold Confirmation Hearings and the Senate can thereafter hold a Confirmation Vote about her nomination pursuant to the Senate's constitutional role to provide the Executive Branch of government it's "Advise and Consent."
Thursday, January 26, 2017: Puzder Confirmation Hearing Now Pushed Back to Tuesday February 7
Amid continuing rumors from Mr. Puzder's friends and close Republican allies that he may now not want the job as U.S. Secretary of Labor given the pushback and harsh criticism he has engendered from Democrats and labor unions, the Senate HELP Committee has delayed Mr. Puzder's confirmation Hearing for a third time. (HELP = Health, Education, Labor and Pensions). The new date is Tuesday February 7 after previous re-sets from January 12, to January 17 to February 2. This is somewhat extraordinary handling for a Cabinet-level position so the process is now garnering as much attention as the initial controversy of Mr. Puzder's nomination. The latest re-set came following a demand from Patty Murray (D-WA), the Ranking Member of the Democrats on the Senate HELP Committee for submission of Mr. Puzder's "paperwork." The so-called paperwork includes voluminous candidate disclosures to assist the Senate HELP Committee formulate questions to Mr. Puzder at his Confirmation Hearing. Mr. Puzder, however, is a prolific and thoughtful writer about human resources and government regulatory issues and is also the CEO of a large company and an investor and entrepreneur making his "paperwork" somewhat larger than the public footprint of many candidates for cabinet positions.  The delay in confirming Mr. Puzder is now causing a noticeable delay in transition at USDOL as all employees at the Department now await a new leader, new directions and new political appointees to carry out those new instructions and new missions.
Monday, January 30, 2017: Trump Executive Order Calls for 2 Fewer Federal Rules for Each New Rule, and a Zero Sum Game
Taking a novel approach to the reduction of federal regulations, President Trump today issued an Executive Order to all federal Executive Branch Agencies titled "Presidential Executive Order on Reducing Regulation and Controlling Regulatory Costs." This new EO requires federal agencies to [DE Members: we have yellow highlighted the most important new requirements]:
"… In addition to the management of the direct expenditure of taxpayer dollars through the budgeting process, it is essential to manage the costs associated with the governmental imposition of private expenditures required to comply with Federal regulations. Toward that end,

it is important that for every one new regulation issued, at least two prior regulations be identified for elimination, and that the cost of planned regulations be prudently managed and controlled through a budgeting process."

"Regulatory Cap for Fiscal Year 2017.

Unless prohibited by law, whenever an executive department or agency (agency) publicly proposes for notice and comment or otherwise promulgates a new regulation, it shall identify at least two existing regulations to be repealed.
For fiscal year 2017, which is in progress, the heads of all agencies are directed that the total incremental cost of all new regulations, including repealed regulations, to be finalized this year shall be no greater than zero, unless otherwise required by law or consistent with advice provided in writing by the Director of the Office of Management and Budget (Director).
In furtherance of the requirement of subsection (a) of this section, any new incremental costs associated with new regulations shall, to the extent permitted by law, be offset by the elimination of existing costs associated with at least two prior regulations. Any agency eliminating existing costs associated with prior regulations under this subsection shall do so in accordance with the Administrative Procedure Act and other applicable law."

"Annual Regulatory Cost Submissions to the Office of Management and Budget.

Beginning with the Regulator *** for fiscal year 2018, and for each fiscal year thereafter, the head of each agency shall identify, for each regulation that increases incremental cost, the offsetting regulations described in section 2(c) of this order, and provide the agency's best approximation of the total costs or savings associated with each new regulation or repealed regulation.

Each regulation approved by the Director during the Presidential budget process shall be included in the Unified Regulatory Agenda required under Executive Order 12866, as amended, or any successor order.
Unless otherwise required by law, no regulation shall be issued by an agency if it was not included on the most recent version or update of the published Unified Regulatory Agenda as required under Executive Order 12866, as amended, or any successor order, unless the issuance of such regulation was approved in advance in writing by the Director.

During the Presidential budget process, the Director shall identify to agencies a total amount of incremental costs that will be allowed for each agency in issuing new regulations and repealing regulations for the next fiscal year. No regulations exceeding the agency's total incremental cost allowance will be permitted in that fiscal year, unless required by law or approved in writing by the Director. The total incremental cost allowance may allow an increase or require a reduction in total regulatory cost.
---
THIS COLUMN IS MEANT TO ASSIST IN A GENERAL UNDERSTANDING OF THE CURRENT LAW AND PRACTICE RELATING TO OFCCP. IT IS NOT TO BE REGARDED AS LEGAL ADVICE. COMPANIES OR INDIVIDUALS WITH PARTICULAR QUESTIONS SHOULD SEEK ADVICE OF COUNSEL.
Reminder: If you have specific OFCCP compliance questions and/or concerns or wish to offer suggestions about future topics for the OFCCP Week In Review, please contact your membership representative at (866) 268-6206 (for DirectEmployers Association Members), or email Candee at candee@directemployers.org with your ideas.
Receive OFCCP compliance alerts and updates right on your phone! Text the word compliance from your mobile phone to 55678 (all applicable charges and fees set by your cell phone carrier will apply).
Save
Save
Save
Save
Save
Save
Save
Save
Save
Save