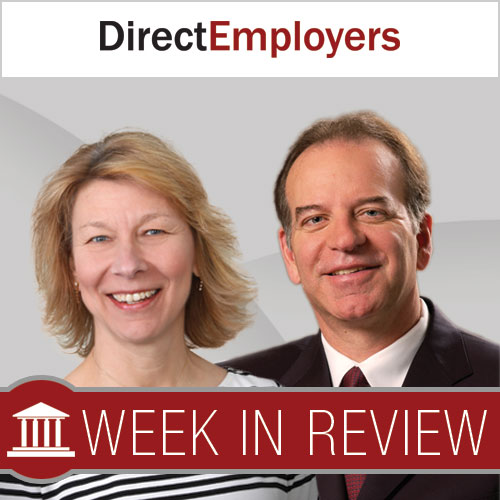 The OFCCP Week in Review (WIR) is a simple, fast and direct summary of relevant happenings in the OFCCP regulatory environment, authored by experts John C. Fox and Candee Chambers. In today's edition they discuss:
Eric Dreiband reportedly being considered by the White House to be the USDOJ Civil Rights Division Chief
Congressional budget flatlined OFCCP's budget for 2017
Monday, May 1, 2017: White House Reportedly Considering Eric Dreiband to be USDOJ Civil Rights Division Chief
Mr. Drieband is a Washington D.C. lawyer who served as the General Counsel of the EEOC during the Bush Administration. No formal nomination has yet occurred. Most leaks in Washington D.C. are carefully planned and casually revealed, as though by mistake. The White House's leak has all the earmarks of a "trial balloon" to see if it will fly in the raucous Halls of Congress now roiled again by passage last week in The House of Representatives of the ACA repeal bill.
Monday, May 1, 2017: Congressional Budget Flatlined OFCCP's Budget for 2017
The good news for OFCCP is that the budget The Congress authorized last week for Fiscal Year 2017 to prevent a federal government shutdown continued in effect the tradition of "continuing resolutions" ("CRs") of federal budgets at impasse. CRs keep the budget at the prior year's level until the Congress can agree on a budget. NOTE: This "flat line" budget is not the budget for FY18 (beginning October 1, 2017) as to which President Trump has proposed a 21% reduction in FY2018 which will begin on October 1, 2017. The federal government has been operating thus far on a "continuing resolution" until this new budget for the current Fiscal Year (FY2017) passed. The "flat line" budget is actually good news for OFCCP since the bi-partisan Senate Appropriations Committee proposal for OFCCP's FY2017 budget had been a $1M reduction. The House of Representatives Appropriations Committee budget proposal for OFCCP for FY2017 had been a reduction of $5M.
The bad news for OFCCP, despite the otherwise relatively "good news" of a "flat line" budget is that OFCCP had estimated to The Congress in its FY2017 budget request that increased expenses (for pension payments and rising leasehold expense) would drive up the agency's FY2017 costs by an estimated $2.1M. A "flat line" budget thus means a further downsizing of OFCCP's authorized on-roll employee headcount by a little over 20 personnel to absorb the agency's anticipated increase in expenses. A good rule of thumb is that $1M buys OFCCP approximately 10 Compliance Officers. This seeming "good news" is further tempered by the other reality that OFCCP is already at its smallest headcount in well over 40 years.
---
THIS COLUMN IS MEANT TO ASSIST IN A GENERAL UNDERSTANDING OF THE CURRENT LAW AND PRACTICE RELATING TO OFCCP. IT IS NOT TO BE REGARDED AS LEGAL ADVICE. COMPANIES OR INDIVIDUALS WITH PARTICULAR QUESTIONS SHOULD SEEK ADVICE OF COUNSEL.
Reminder: If you have specific OFCCP compliance questions and/or concerns or wish to offer suggestions about future topics for the OFCCP Week In Review, please contact your membership representative at (866) 268-6206 (for DirectEmployers Association Members), or email Candee at candee@directemployers.org with your ideas.
Receive OFCCP compliance alerts and updates right on your phone! Text the word compliance from your mobile phone to 55678 (all applicable charges and fees set by your cell phone carrier will apply).
Save