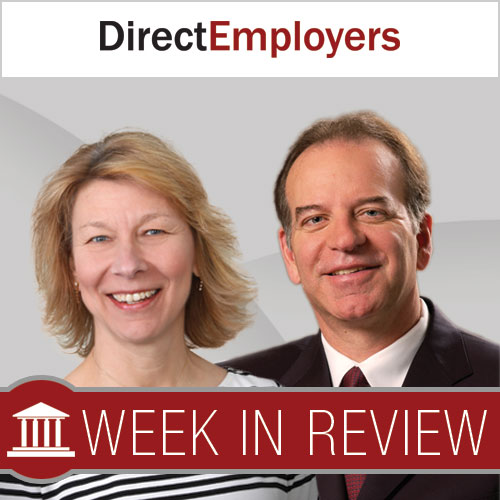 The OFCCP Week in Review (WIR) is a simple, fast and direct summary of relevant happenings in the OFCCP regulatory environment, authored by experts John C. Fox and Candee Chambers. In today's edition they discuss the White House leaked documents regarding:
Plans to merge OFCCP with EEOC
OFCCP's FY2018 budget
Thursday, May 18, 2017: White House Leaked Plans to Merge OFCCP with EEOC
The first leak was that the White House was releasing the Labor Department's full FY2018 budget tomorrow=Tuesday May 22 (FY2018 starts October 1, 2017=4 months from now). The second leak was that the USDOL budget would announce that OFCCP would merge with the EEOC. There were no details such as:
When: We suspect FY2019=October 2018 based on OMB Director Mick Mulvaney's April 12, 2017 memo which identified that FY to begin the new federal government the Trump Administration envisions. This would also give credence to the prior leaks which began 2 months ago that the Secretary of Labor might not appoint an OFCCP Director and Secretary Acosta's staff's subsequently leaked reports of interviews of candidates to lead every other sub-agency within USDOL OTHER THAN OFCCP—but then came a belated leak from Capitol Hill three weeks ago that a Senate Health, Education, Labor and Pensions Committee staffer had interviewed for the OFCCP job; or
What: There are four issues:

Budget transfer–in whole or in part?
Employee transfer, in whole or in part?
Transfer of discrimination authority?
Transfer of affirmative action authority?
Friday, May 19, 2017: White House Leaked OFCCP's FY2018 Budget
Down ~16% from ~$104M to $88M. The FY2018 "full budget" the White House is releasing Tuesday fills out the gaps left by the so-called "skinny budget" The White House released earlier this year. (See OFCCP WIR for March 20, 2017) The full budget will now provide the budget numbers The President wants the Congress to pass to fund each of the sub-agencies (like OFCCP) within USDOL. The "skinny budget" told us only the total dollar budget value for FY2018 for the USDOL as a whole and announced a controversial 21% total budget reduction for USDOL. The report on Friday of an OFCCP budget within USDOL in FY2018 seemed to confirm our suspicion of Thursday that any OFCCP/EEOC merger was thus set for FY2019 (if it is to occur at all)…even apart from the fact that it would be very difficult to effect the transfer of an agency, even as small as OFCCP, in 4 months time. A 16% budget cut (i.e. ~$16M), on top of likely an additional ~$2M in increased OFCCP operating expenses (i.e. pension and rent increases), would mean the loss of approximately 180 OFCCP staff positions (from a currently authorized 615 to perhaps around 435 employees). A staffing reduction of such size would mean numerous OFCCP office closures, and would perhaps commend closure of all approximately 40 OFCCP District and Field Offices as the GAO wondered and questioned last year in light of the advance of technology to accomplish audits via e-mail and telephone. 435 employees would make for a nice OFCCP National Office headquarters staff and 6 regional Office staffs to conduct audits (as then OFCCP Regional Office Administrator Sandra Ziegler experimented with in waning days of the Bush Administration and the early days of the Obama Administration before her retirement). Release of the budget tomorrow will tell much more of the thinking of The White House and Secretary Acosta.
Will it happen? This issue now moves from a technical issue to a political issue. Fasten your seat belts! Turbulence ahead! This will be a donnybrook.
---
THIS COLUMN IS MEANT TO ASSIST IN A GENERAL UNDERSTANDING OF THE CURRENT LAW AND PRACTICE RELATING TO OFCCP. IT IS NOT TO BE REGARDED AS LEGAL ADVICE. COMPANIES OR INDIVIDUALS WITH PARTICULAR QUESTIONS SHOULD SEEK ADVICE OF COUNSEL.
Reminder: If you have specific OFCCP compliance questions and/or concerns or wish to offer suggestions about future topics for the OFCCP Week In Review, please contact your membership representative at (866) 268-6206 (for DirectEmployers Association Members), or email Candee at candee@directemployers.org with your ideas.
Receive OFCCP compliance alerts and updates right on your phone! Text the word compliance from your mobile phone to 55678 (all applicable charges and fees set by your cell phone carrier will apply).
Save