The OFCCP Week in Review (WIR) is a simple, fast and direct summary of relevant happenings in the OFCCP regulatory environment, authored by experts John C. Fox, Candee Chambers and Jennifer Polcer. In today's edition, they discuss:
Thursday, October 11, 2018: DOL to Support Georgia Through Hurricane Michael
"The Department of Labor will deploy resources to help Georgians who, as a result of Hurricane Michael, find themselves unable to work and without a paycheck," said U.S. Secretary of Labor Alexander Acosta.
The U.S. Department of Labor announced it is ready to make available National Dislocated Worker Grant (DWG) funding to help Georgia assess its workforce needs. Supported by the Workforce Innovation and Opportunity Act of 2014, DWGs temporarily expand the service capacity of dislocated worker training and employment programs at the state and local levels by providing funding assistance in response to large, unexpected economic events that cause significant job losses.
Thursday, October 11, 2018: OFCCP Issued National Interest Exemption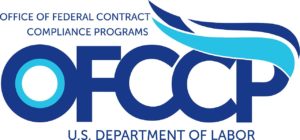 OFCCP Acting Director Craig Leen issued a temporary exemption from specific federal contracting requirements for covered government contractors who fall under OFCCP jurisdiction.
Who Gets an Exemption?
Federal contracting agencies which have entered into covered contracts to provide Hurricane Michael relief.
Exempt from What?
The requirement to develop written affirmative action programs under OFCCP regulations implementing EO 11246, VEVRAA, and Section 503 of the Rehabilitation Act of 1973, as amended.
For How Long?
For a period of three months, from October 11, 2018 – January 11, 2019, subject to possible extension.
Must Continue to…
Abide by the nondiscrimination requirements of EO 11246, VEVRAA and Section 503, and to the following FAR requirements:
Posting of the "Equal Opportunity is the Law" notice under all three laws;
Recordkeeping and record retention requirements under all three laws; and
Employment listings with the appropriate employment service delivery system as required under VEVRAA.
Insider Tip
Listing IS NOT Posting! Remember 'Employers List, States Post.' The regulations require employers to list available jobs with the local workforce agency asking for priority Veteran Referrals. States may choose (or not) to post jobs to their job board, but that is NOT what the regulation requires of the Covered Federal Contractor.
DirectEmployers Members: Not to worry, we list for compliance and then to enhance recruitment efforts, deliver to the State(s), the National Labor Exchange and thousands of syndicated diversity sites for you!
Additional information:
Important News and Update
The Wage and Hour Division will hold its final listening session on the FLSA overtime rule on Wednesday, October 17th in Washington D.C. However, registration is currently showing "sold out." Interested parties have been able to voice concerns at sessions held in Atlanta, Denver, Kansas City, Seattle, and Providence.
Employers have been advocating that the DOL adopt the 2004 methodology of calculating the minimum salary, which would put the salary threshold for purposes of the exemption at approximately $32,000/year. The DOL has yet to comment. We will recap in full as information becomes available.
THIS COLUMN IS MEANT TO ASSIST IN A GENERAL UNDERSTANDING OF THE CURRENT LAW AND PRACTICE RELATING TO OFCCP. IT IS NOT TO BE REGARDED AS LEGAL ADVICE. COMPANIES OR INDIVIDUALS WITH PARTICULAR QUESTIONS SHOULD SEEK ADVICE OF COUNSEL.
SUBSCRIBE.
Compliance Alerts
Compliance Tips
Week In Review (WIR)
Subscribe to receive alerts, news and updates on all things related to OFCCP compliance as it applies to federal contractors.
OFCCP Compliance Text Alerts
Get OFCCP compliance alerts on your cell phone. Text the word compliance to 55678 and confirm your subscription. Provider message and data rates may apply.
John C. Fox, Esq. is President and Partner at Fox, Wang & Morgan P.C. where he represents companies and tries cases in state and federal courts throughout the United States. Mr. Fox has extensive trial experience, having spent more than 300 days in trial. Full Bio »